HISTORY, ARTICLES, STORIES, MAPS AND PHOTOS
Table of Contents
CHAPTER 1 - NORTH SLOPE HISTORIC DISTRICT: How it all started.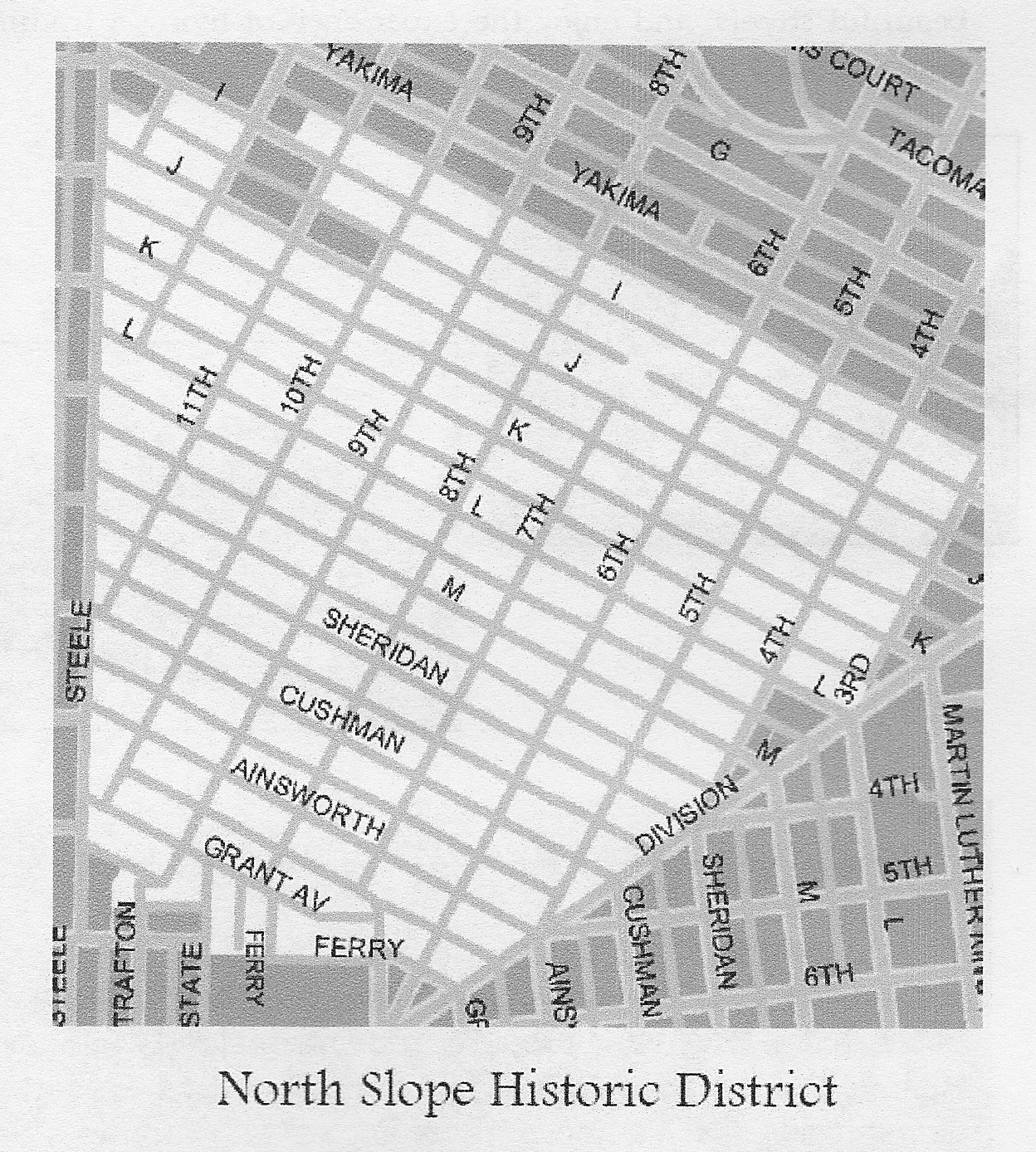 CHAPTER 2 - NSHD IN THE TACOMA HISTORIC REGISTER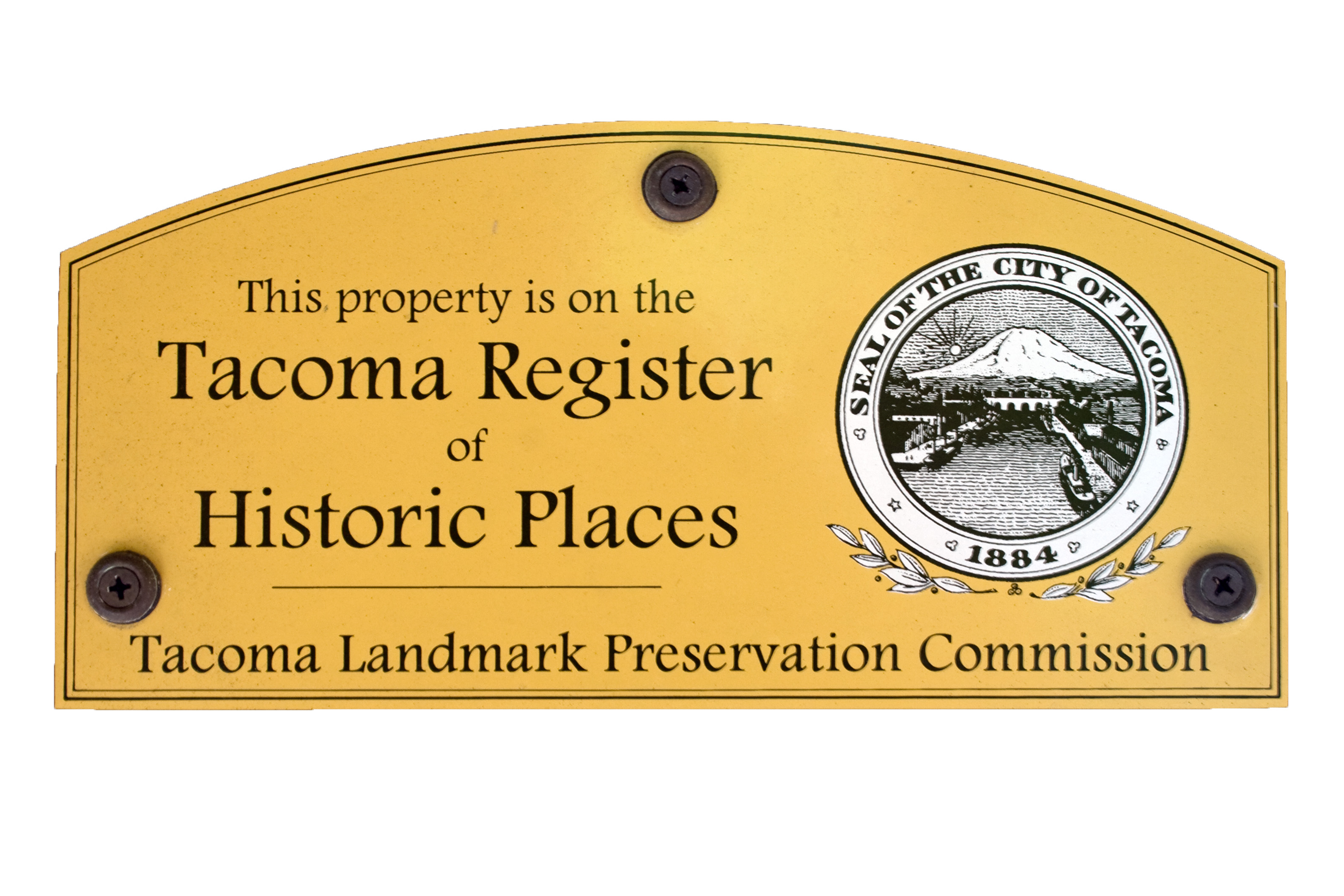 The Tacoma Register of Historic Places falls under a city ordinance administered by the Landmarks Commission, with guidelines based on those required by the National Park Service for the National Register. The ordinance includes protections for individual properties against exterior alterations that would degrade the structure's historic architectural integrity. The City of Tacoma has documented how it protects our historic neighborhood. A couple of references are:
Historic Preservation Office 253-591-5220 reuben.mcknight@cityoftacoma.org.
web site www.cityoftacoma.org/HistoricPreservation
Tacoma boasts one of the largest residential historic districts in the country with the North Slope Historic Special Review district, which is listed on the Tacoma (1994, expanded in 1996 and 1999), Washington State, and National Registers of Historic Places (2003).
The North Slope Historic District encompasses more than 950 properties. This district was created in response to an initiative from residents who value the atmosphere these historic homes create in the neighborhood.
The three Tacoma Register Nomination Forms contain a description of the physical appearance and predominant architectural styles found in the neighborhood. The notable architects, those who designed the homes, are listed.
Tacoma Register Nomination Forms:
Why is the NSHD historic?
Elizabeth Anderson, a former Tacoma Historic Preservation Officer, answers the question using our history for the answer.
The Original J St Nomination 1995
It all started on North J St. Ordinance No. 25747, August 8, 1995
First Expansion 1997
Added to the district were North I, K, L, and M Streets. Ordinance No. 26144, October 28, 1997
Second Expansion 2000
The last expansion added Sheridan, Cushman, Ainsworth, Grant and other streets. Ordinance No. 26611, April 4, 2000 
Tacoma City Inventory of NSHD homes
This inventory lists all of the homes in the NSHD and gives historic status, whether contributing or noncontributing. Updated as of 2/27/19.
CHAPTER 3 - LANDMARKS COMMISSION WORKING WITH NSHD HOME OWNERS
CHAPTER 4 - NATIONAL REGISTER: How it was accomplished.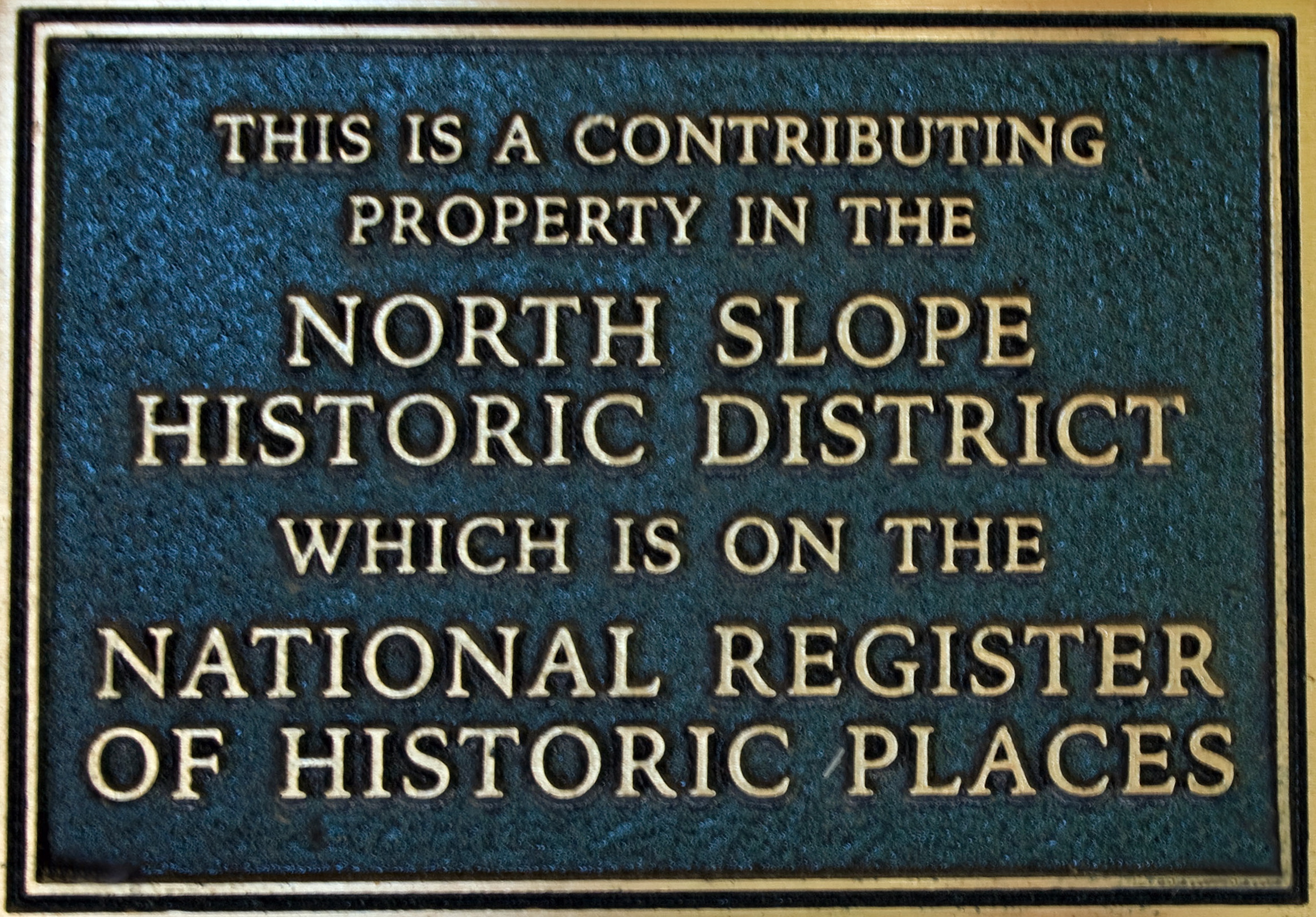 Many photographs were required as part of the nomination to place the NSHD on the National Register of Historic Places. The requirement stated that many had to be in black and white and printed on acid free, archival quality paper. Other photographs were in color.
We were instructed to document what was in the NSHD - - the good, the bad and the ugly. A few pictures were taken of accessory structures and these are included. When known, the dates the photographs were taken are given, but most were taken in Oct. 2002. The photographs were taken by Roger Johnson and Jay Turner.
| | |
| --- | --- |
| HISTORIC NSHD PHOTOS | All are clickable so you can easily increase the size or zoom in for detail. These photos were taken as part of the requirements of the nomination for the National Register |
CHAPTER 5 - HMR-SRD: HISTORIC ZONING FOR THE NSHD
Correcting the zoning was always a priority of the residents of the NSHD. In the early days we were told by the City that they never change zoning. After 13 years of working with the city we found that they don't change, but they do modify. Thus - - -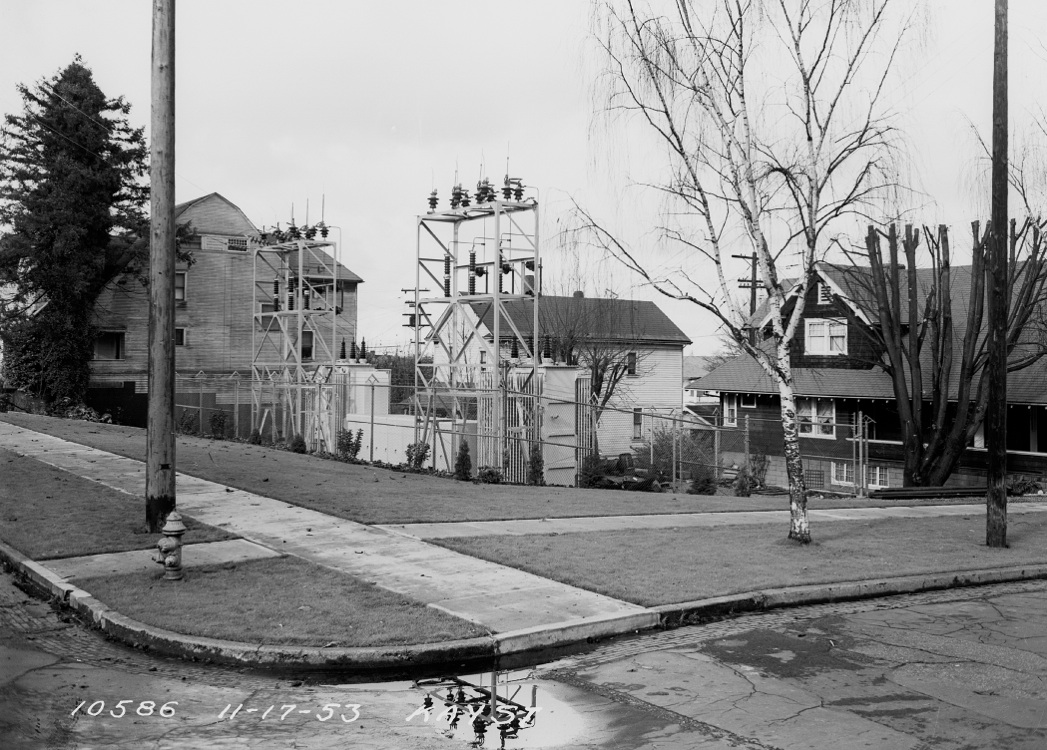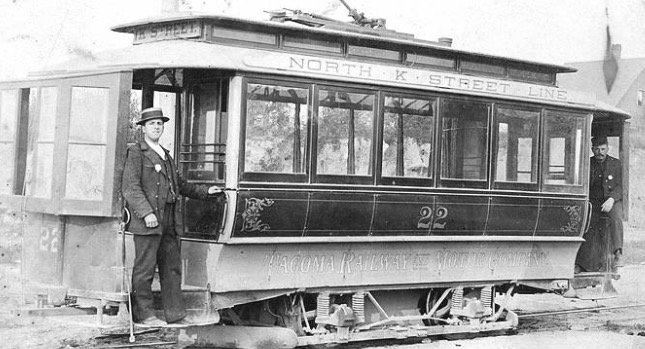 Chapter 8 - NORTH SLOPE HISTORIC DISTRICT, A 501(c)(3) ORGANIZATION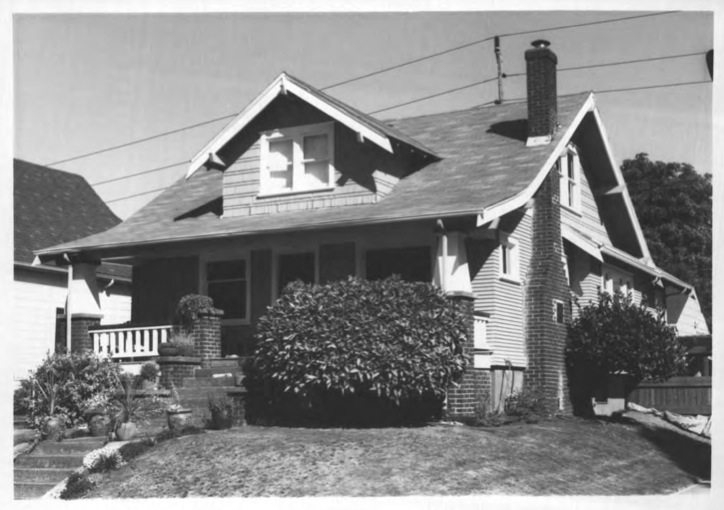 Chapter 10 - SIX NATIONAL HISTORIC DISTRICTS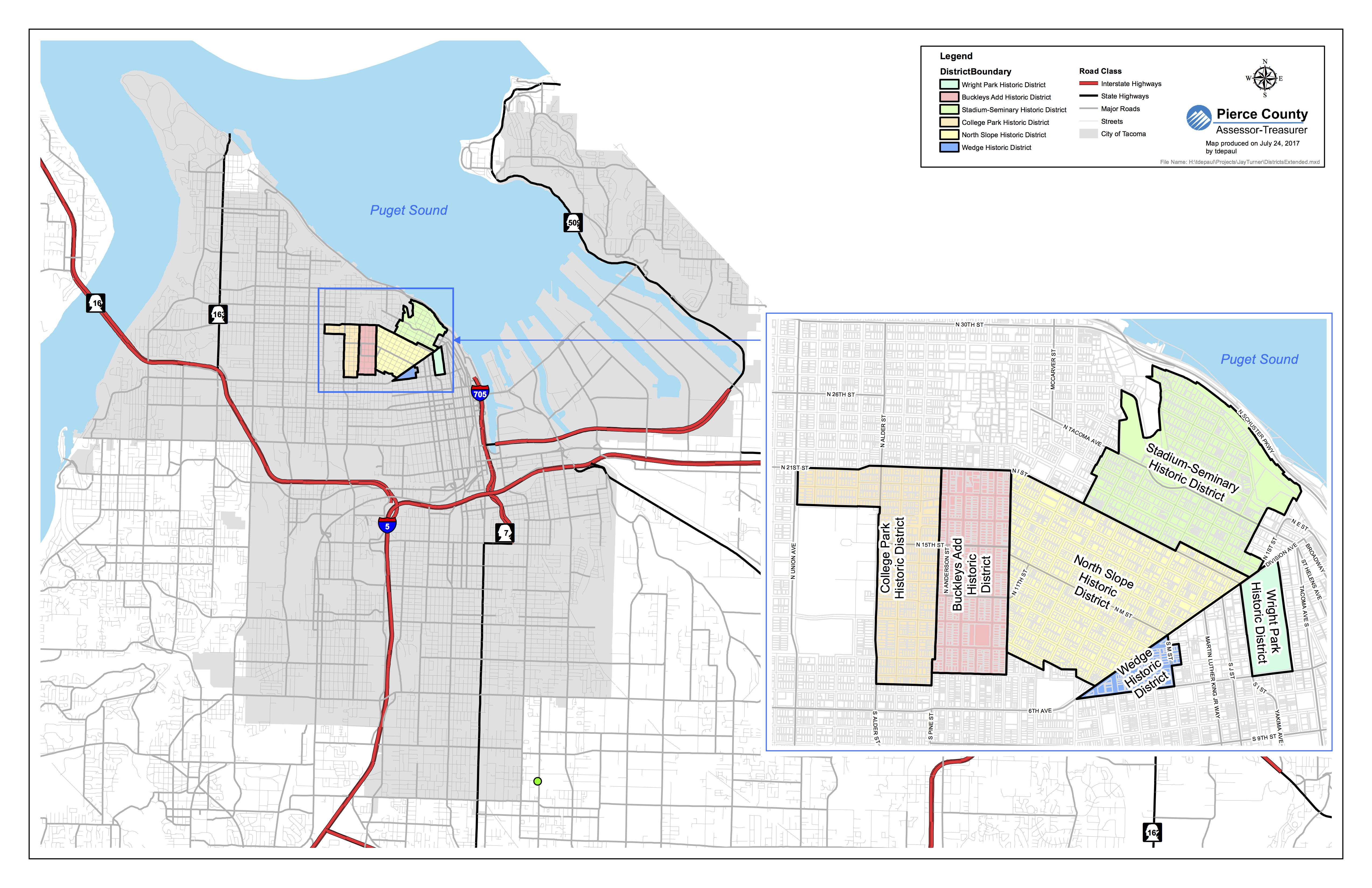 | | |
| --- | --- |
| A Walking Tour of the NSHD | A Walking Tour of the North Slope Historic District. This project was funded by Historic Tacoma, the North End Neighborhood Council and your very own, North Slope Historic District. |
DO IT YOURSELF TOUR - - - The following were taken from from the National Register nomination and published in various issues of the Trolley Times. They are collected here for easy review. Make your own walking tour of these houses starting with houses near where you live.
| | |
| --- | --- |
| 1224 N I ST. | 1. A wealthy widow moved her house by barge from Gig Harbor to the North Slope to be near her daughter, who lived there. |
| 714 N M ST. | 2. Oldest house still standing in the NSHD. |
| Two movie stars in NSHD 1112 N J St and 914 N M St | 3.The North Slope has had two Hollywood stars living here during their childhood. |
| 715 N Sheridan | 4. 715 North Sheridan was built on the site of land belonging to Job Carr. |
| 1222 N 4th | 5. In 1896 Ambrose Russell, one of Tacoma's formats early architects, designed and built his own residence at 1222 North 4th Street. |
| 1402 N 5th | 6. The American Foursquare style house at 1402 North 5th was built in 1903 for Ernest Lister. |
| 1617 Division | 7. In 1922 Frank and Helma Alexander built the first condominium in Tacoma, the Gray Gables |
| RUST MANSION at 1001 North I | 8. The William Ross Rust home at 1001 North I was built in 1905 with money from Rust's share of Bernard Baruch's negotiation fee from the sale of the smelter to the Guggenheims. |
| K St. Park | 9. North Slope Historic District Park was built on an old substation. |
| 903 and 911 N K St. | 10. Two houses remain of the 8 built by Lemuul Root. |
| 520 North L St. | 11. Carl Darmer, a noted Tacoma architect, built 520 N L St. in 1900. |
| 1501 N 5TH | 12. 1501 N. Fifth Street was designed in the Queen Anne Style. and was built in 1905 by Charles A. Bartz, owner of Tacoma Millwork Supply Co. |
| 1417 Division | 13. 1417 Division, was built in 1928 for Leonard and Kathryn Kolstad. Mr. Kolstad was a salesman for the Younglove Grocery Company. [An expanded article by Marilynn Sabo] |
| 520 N Cushman | 14. Home of Dix H. and Georgina Rowland, H.G. & Dix H. Rowland, attorneys. The house was estimated to cost $3,000 and contained six rooms. The residence was "...finished throughout in slash-grain fir." |
| 1015 N 5th | 15. This 1905 home was constructed by the Cornell Brothers Contracting firm of Tacoma. Besides homes, the brothers constructed many prominent buildings in Tacoma, such as the First Presbyterian Church, the Port piers and grain elevators, the Elks Temple and the Stone-Fisher Building. |
| Frisco Freeze 1201 Division | 16. Friscoo Freeze, stop by and get a bite! |
| 824 N K ST. | 17. The Dutch Colonial house at 824 N. K St was designed by the prominent Tacoma architecture firm of Bullard and Hayward, circa 1893. It was the home of Charles and Nellie Drury. |
| 1012 N 9th ST. | 18. One of only two remaining houses known to be designed by Katherine Lockwood Squire, architect for the Tacoma Building Association. Squire was Washington's first professional female architect and designed more than two-dozen buildings in Tacoma. |
| 923 N M ST. | 19. Givin G. Hicks house. His grandfather having been among the first settlers to arrive in what was then Oregon Territory – before the days of Washington Territory or State. |
| 912 N L ST. | 20. Home of Leonard J. Brown and his wife Myrtle Soul. Leonard was President and Manager of Tacoma Engraving Co. Brown was a native of Washington Territory being born just south of Olympia. Leonard came to Tacoma in the early 1890's to attend Puget Sound College. |
| 1721 N Steele | 21. Home of William W. Glenn and his wife Ethyl. William was the Office Manager of of Sperry Flour Mills and the Centennial Flour Mills for 27 years. At one time, Sperry Flour Co. was the largest milling organization in the West. Mr. Glenn was a leader in Tacoma's Boy Scout movement, serving as Scoutmaster of Troop No. 1 for over 30 years. He went on to act as district Commissioner for the scouts and was awarded the Silver Beaver Award, as well as the American Legion's Meritorious Service Award for his activities in support of the Boy Scouts. |
| 1115 North 11th | 22. Robert O. Duff and his wife, Rosa, lived in a house built by Robert in 1902. Duff and his partner, Alexander M. Bain, created many dwellings within what is now the North Slope Historic District. They acted as both architect and contractor for these projects. As a side note, the home is currently under renovation by R4 Construction. The contractor told me that the owner informed him that there is an old, disused bomb shelter with a basement entrance in the home. |
| Women in the early NSHD | 23. Women in the NSHD had many roles documented in the NSHD National Register Archives. Four of them are highlighted here. |
| 417 N Sheridan | 24. A printer moved to Tacoma because of a promotional letter by Allen Mason. |
.
.